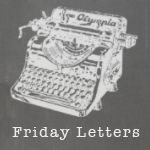 Dear brain,
please function for one more day this week. You can do it!
Dear Airborne,
You have staved off my getting sick. Thank you! Please continue to do your job, so I can do mine.
Dear tight jeans,
please be that way because I just washed you not because I got bigger.
Dear me,
Thank you for going to bed at a decent hour the last few nights. I feel way better.
Dear trainer at the gym
, I had a dream about training last night, and I was whining the whole time. Not much different from in real life.
Dear library
, I am coming to visit you soon. I am about to finish my last book at the house. This makes me so happy!
Dear Thanksgiving break and trip to Maryland,
I hope you are everything that I am expecting you to be. Dear Halloween costume that I so creatively thought of, please be easy to find all the pieces. Or I am going to have to go as what I went as last year, myself.
Dear new followers,
I have loved connecting with you. Hope you have a great weekend!