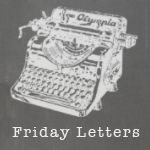 I am linking up with
Ashley
for Friday Letters. This is my first, of hopefully many, link-ups.
Dear new keyboard, not a big fan. Change is not fun. Dear husband, thank you for taking out the trash even though I have been a totally witch to you this evening. I love you. Dear love for my job, Where did you go this week? Without you, the week felt so much longer. Please return with a vengeance ASAP! Dear retainer and braces, Despite one of my students telling me I look good with you, I hate you so much. Dear Lisa, I already miss you in the classroom and hope you recover quickly. Dear perfect running shorts, Where are you? How do you stay in one place and not ride up when my thighs rub together? Currently, I have to pull my shorts out, up, and over several times on my jog. Not cool. Dear Chuy's Happy Hour, I need you badly tomorrow. However, I don't know how well I can munch on your free chips and queso. Sometimes, you are the one thing that gets me through the day. Dear bloggers, I would love some new followers and comments. It totally makes my day!
Finish strong, peeps!